BACONE COLLEGE AMERICAN INDIAN FOCUS FILM FESTIVAL

DATE: FRI. APRIL 26

TIME: 11AM-8PM

VENUE: BACONE CHAPEL


11:00 AM

DIRECTOR: Joseph Erb

SUN & THE GREAT FROG

5 minutes

ANIMATION

A Cherokee Eclipse Story in the Cherokee Language. A great frog tries to swallow the sun.

DIRECTOR:Kyle Kauwika Harris

PREY

23 minutes
NATIVE ACTION

A 19th Century Frontiersman, while hunting, encroaches on tribal burial ground and is pursued by a Cheyenne Brave in mourning.

DIRECTOR: J R Mathews

RUNNING ON INDIAN TIME

15 minutes
SATIRE, COMEDY

A satirical exploration of stereotyping and how Native American view non-natives to other Indians and how present day America could have been based on the idea of what if the white man had lost to Native Americans.

DIRECTOR: Jaiden Mitchell

CORNHUSK

12 minutes
NATIVE HORROR

A Native American family moves back to the reservation and recovers a doll buried on church grounds. Soon after strange demonic things start happening as the family discovers that the doll is from the Residential School era exposing all the horrors that the voiceless Native children have experienced.

ROUNDTABLE DISCUSSION WITH FILMMAKERS IN ATTENDANCE

45 minutes

12:00 PM-12:45 PM



TBA
1:15 PM
DIRECTOR: Luke Holton

SAYEIK

24 minutes
NATIVE DOCUMENTARY

A documentary film which discusses the importance of place names (toponyms) in the preservation of Alaska Native languages. The burning of Douglas Indian Village in 1962, and construction of Gastineau Elementary School over Tlingit graves in 1953.

2:00 PM

DIRECTORS:
Beverly Penninger,
Alyson Young

IN GOOD FAITH

57 minutes
NATIVE DOCUMENTARY


IN GOOD FAITH is a documentary that centers around the work of Dr. Orlan Svingen, professor of history at Washington State University (WSU), and his ongoing work with the Mixed Bands of Shoshone, Bannock and Sheepeater Indians at the Fort Hall reservation in Pocatello, Idaho.

3:00 PM

Presented by SCOTT GOLDSTEIN & REBECCA MORROW

Q & A with Documentary Filmmakers In Attendance

STRESS AND SUCCESS: A GEORGETOWN STORY

94 minutes



A student documentary about Georgetown University's stress culture, busyness, pre-professionalism, club culture and the lack of an adequate mental health safety net on the undergraduate college campus.
6:00 PM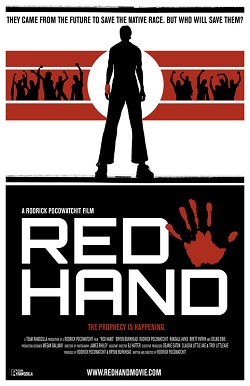 RED HAND
Director - Rodrick Pocowatchit
A man with the power to heal time-travels from the future to rescue a tech genius who is pivotal in saving the Native American race.
Q & A Following Screening with Filmmaker in Attendance
OFFICIAL FESTIVAL EMAIL ADDRESS: barebonesfilmfestivals@gmail.com
20th ANNUAL BARE BONES INTERNATIONAL FILM & MUSIC FESTIVAL-MUSKOGEE, OK USA
" A Place where even squares can have a ball." lyrics from Okie From Muskogee by Merle Haggard, 1968
MAILING ADDRESS UPS OR FEDEX DELIVERIES:
525 W. Okmulgee Ave. #3779 Muskogee, OK 74401
CST 918-616-1264 MESSAGE/text LINE