OFFICIAL SELECTIONS -A-Z LISTINGS WITH DAY/TIME/VENUE FOR LIVE SCREENINGS IN MUSKOGEE, OK USA APRIL 26-30, 2023 & ONLINE VIRTUAL OPTIONS
BARE BONES CLOSING BONHEAD AWARDS CEREMONY-HISTORIC ROXY THEATRE & OKLAHOMA'S MOVIE HALL OF FAME
BARE BONES FILM FESTIVAL FOUNDER/DIRECTOR/PROGRAMMER
SHIRONBUTTERFLY

After 24 years of celebrating Indie Films and Filmmakers in the small town of Muskogee, OK USA, ShIronbutterfly shares what her experience with a virtual festival partner: ENTERTAINMENT OXYGEN has meant for the future of Bare Bones International Independent Film Festivals "Go-Hybrid" for year 25 and beyond.
FOR MOVIE DESCRIPTIONS...CLICK HERE
CELEBRATING INDEPENDENT FILMMAKERS WORLD-WIDE WHO CREATE THEIR PROJECTS BY ANY MEANS NECESSARY! B.A.M.N.!
"NO frills-No Waste"
Bare Bones International is proud to partner with Entertainment Oxygen to bring our film festival to you in the comfort of your home, office, school, etc. Gather a group and make it a special event. Check it out. JOIN THE BARE BONES FILM FAN CLUB.
Hello, BBIFF Filmmakers and Fans !

We are proud to announce that, based on all your online votes from BBIFF FanClub, the winner of the Best Filmmaker Award at BBIFF 2023 is SPIC! Presented by eoApp

Congratulations to Johnny Sanchez, Writer & Producer & to Heidi Miami Marshall, Director of "SPIC" on this well-deserved recognition!!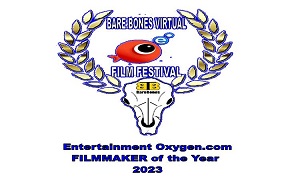 The winner of the 2023 BBIFF Best Filmmaker Award, presented by eoApp, receives:

Official Best Filmmaker Award laurels.

The opportunity to pitch for your next project to eoApp partner and veteran film producer in Hollywood.

An official filmmaker interview that eoApp will post and promote across all platforms.

One month featured in eoApp's Spotlight on the app and website for the filmmaker and their entire cast and crew.

Thank you all, for the effort to screen and showcase your film on eoApp!

Please follow eoApp to get the latest exciting news and update! We will share the videos to the Fanclub Chat.

We will see you soon & Hope you all can continue using eoApp to connect and collaborate from script to screen, unlocking your firm's future.
BARE BONES INTERNATIONAL INDEPENDENT MUSIC-DOC & FILM FESTIVALS roll out the red carpet for YOU! BONEHEADS UNITE FOR THE INDIEWOOD GLITZ & GLAMOUR AWARDS CEREMONY ON SUNDAY, APRIL 30TH HIGH-NOON! ROXY THEATER.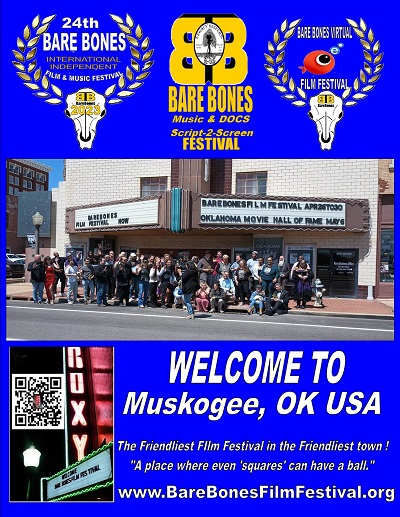 BARE BONES MUSIC & DOC AWARD WINNERS & PLACE WINNERS-Click image
| | |
| --- | --- |
| click IMAGE to read in larger print. | MEET MUSKOGEE MAYOR MARLON COLEMAN! |
Muskogee is A Film-Friendly town, nestled between 3 rivers in the heart of green country in the State of Oklahoma.

Watch this video clip of some of the many events and activities that take place year round in Muskogee, OK USA