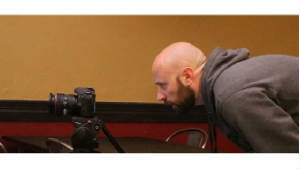 CHARLES STANLEY
Best Director Nominee
Charles' cinematic skills are easily evident in his production, the award winning Epiphany. A distinctive style particular to his craft makes Charles work desirable. He served as Director of Photography on the award winning short movie Banished Misfortune, the award-winning documentary Pray's Passion, the strikingly recorded documentary You Bet We're Going Back to Sea The S.S. John W. Brown and the award winning fictional work The Last Dive. Charles marked his Directorial debut with the release of WDC, LLC's first feature length movie Beaches, Buns, and Bikinis starring Ron Jeremy. Taking his craft as a Director to a new level, Charles wrote and directed the five part web comedy The Front Desk. Charles encourages discussion and nurtures passion for independent production through 3AM Films and its website.
SAT. OCT. 17
7:30 PM
ROXY THEATER

SKINNY ATLAS
WRITTEN & PRODUCED by MATT JENKINS
PRODUCED by

WRITTEN by
A career as an astronaut hasn't prepared Commander Sylvester "Skinny" Atlas for life back on ground. Can Skinny's girlfriend Rocky Keep him from falling into trouble?