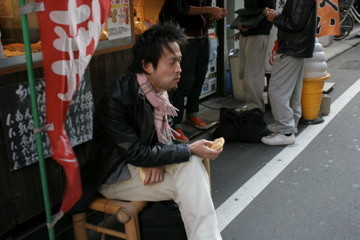 DIRECTOR STATEMENT
I have a kind grandmother. She is always smiling and kind. When I am at Mihonoseki in Shimane, the setting for this film, I feel the same gentle warmth that I feel from my grandmother. I have a feeling that this has something to do with how this town is nestled with the sea and feels close to God. I think that this warmth is a remnant of a hundred years, or more like more 2,500 years of connection with the gods. I took on this film because I wanted to leave a story with this warmth, even more than 50 years after "Tokyo Story" by Ozu Yasujiro was born out of a sense of crisis after the war.
NOZOMU KASAGI
Best Director Nominee
Born in Hokkaido, Japan in 1974. Dropped out of Sophia University. Directed "Where is his training suits ?" in his school days, being selected for 7 film festivals including the Kyoto international Student Film & Video Festival, Mito Short Film Festival, and the Akiruno Film Festival, also winning audience awards etc. The film also marked the largest audience at the short movie theater Tollywood. Made his feature film directorial debut with "Swan Song". Directed best-selling Shueisha mobile phone novel "Tokyo Real" etc. Has also been actively involved in other genres, including TV drama "Shonan Tile Roof Story" etc., music videos for Megumi Hayashibara and Seikima, and stage performances such as the modern version of "A Streetcar Named Desire" etc.
TUES. OCT. 13
1:00 PM
ROXY THEATER

WORLD CINEMA DAY
BULLET TRIP
WRITTEN & DIRECTED by NOZOMU KASAGI
PRODUCED by HIDENICHI YAKABE

ROAD TRIP, ROMANCE-DRAMA
Former Shinjuku No.1 male host Noboru slams up the hostess lover Noriko and rushes 800 km nonstop on the night highway to the port town Mihonoseki. The trip, called surprise bullet trip, has a purpose that only Noboru knew.

But unfortunately, the day of the closest port town to God, unfamiliar to the two of them, is December 3rd, when the rituals that have been running for 2000 years since ancient times. The path of the sloppy couple involves Goro, the third-generation owner of the local soy sauce shop, and heads in an unexpected direction.