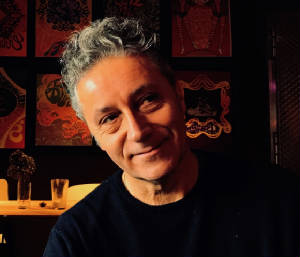 DIRECTOR STATEMENT
I have been always passionated about Soul and R&B. It is my favourite music. And I have been dreaming to make a film about Soul legends for a long time.

I believe Porretta Soul is the best festival for this kind of music. It inspired me to develop this idea for a documentary which would try to depict the emotions of the artists and the people in Porretta, through a sort of humanity portrait. In particular the fascinating merging of these two different worlds -- on one stage the main actors, the legends of Soul and R&B, and on the other, the people of Porretta, its families, the elders , the young, the pensioners, the kids.

This made me think of Soul Music like an ocean, which exalts the beauty of life simply for what actually is.
Therefore, I want to tell this story with the rhythm of a musical film, but enabling the lives and the emotions of the protagonists to ooze from each frame, with a mixture of languages, overlapping past and present and having the souls of soul dancing with the rhythm of life.
MARCO DELLA FONTE
Best Director (DOC) Nominee
DIRECTOR & CO-PRODUCER
Marco Della Fonte is an independent filmmaker working in UK. He is also partner of the London-based film company LOST PICTURES Ltd.Marco has directed commercials and music videos for the last 15 years, establishing a sound credibility in the European scene.
Marco has also wrote and directed a number of short films and
docu-dramas winning various Festival acknowledgments, including First Prize (Documentary)at Venice Film Festival, a Second Prize (short film) at Florence Film Festival, First Prize (best Music Video) at MTV Italian Awards, Best Screenplay (short film) at Indian Cine Film Festival and Platinum Award (Short Film)at Worldfest Houston International Film Festival.
SCREENWRITING
8:00 PM
TUES OCT. 13
ROXY THEATER

WORLD CINEMA DAY
A SOUL JOURNEY
EXEC. PRODUCED by ALEXANDRA YACOVLEF
MUSIC DOCUMENTARY
In the last 30 years, some of the greatest legends of Soul and R&B have performed at Porretta Soul in Italy, the greatest Soul music festival in the world.

A Soul Journey is not just simply a music documentary, it is a film narrating many aspects of the intricate and delicate lives of these artists, and in particular, their artistic, human and emotional journeys to perform in such a small village lost in the Italian mountains.

The film captures the incredible, yet fascinating cultural mix taking place during the festival, when artists coming from Memphis, Chicago and New Orleans, meet the people of a small Italian village, eager to welcome and support them in every possible way.

In fact, during the festival, it is not uncommon to see local elderlies sitting at a cafe table with one of the stars in a pistachio suit and golden moccasins, playing cards and sipping a good glass of wine together !

We wanted to make this film look at the human aspects, the contrasts and paradoxes of these two very separate worlds. On the one hand , stars who have performed thousand of times in every corner of the world, and on the other, a settlement in the Italian Apennine Mountains, between Bologna and Florence, geographically renowned for its natural spas. Porretta gets a second life every summer as Soul and R&B fanatics congregate from various parts of Europe and Italy to witness a musical miracle, once again!