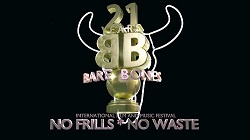 JOHN ALEXANDER
Best Director Nominee
Director John Alexander's documentary, This Is Love, tells the story of Wichita soul singer extraordinaire, Rudy Love. While his name is one of those best known to crate-digging heads, his influence and talent can be heard on the recordings of Ray Charles, Isaac Hayes, the Soul Searchers, and more. Love was also Sly Stone's bandleader and tour manager for the better part of a decade. His fame is however mostly Wichita-based, where Rudy Love and the Love Family have been performing for decades.
10:15 PM
FRI.OCT. 16
ROXY THEATER
THIS IS LOVE: THE RUDY LOVE STORY
DIRECTED by JOHN ALEXANDER
This Is Love starts off not with the story of Rudy, but with that of his father, Bob Love, who co-wrote and recorded a song called, Good Morning, Little Schoolgirl, with his partner, Don Level, as the R&B duo, Don & Bob.

The song was covered by dozens of artists, and Love never really saw much credit for it, thanks to the manipulations of the music industry. Flash forward nearly three decades, and Rudy Love's first-ever demos are released on Manhattan Records under the name of Brother Tyrone Davis, with no credit whatsoever to Rudy Love. It really ties in the idea of family and the tricky nature of the music biz.

Part of it sort of this feeling of audience members and Rudy himself and his family sort of smacking themselves on the forehead saying, Oh, come on not again! How did you not learn from the previous generation? It's sort of like a fool me once, shame on you fool me twice, shame on me situation but, you know, on further examination, we're saying there's more to it. It wasn't necessarily just being taken advantage of, it's a question of values and a question of intent.

The driving question of the film was, Why, why, why isn't really Love famous? Why didn't he become a household name, like so many of the people he was associated with?