CLICK IMAGE TO VIEW TRAILER
9:02 IN OKC
MAKENZIE LEE BAUMERT-Writer/Director/Producer
DOMINIQUE MCCOLLUM/BLAYKE BAYER/DAISY MCMILLEN-Producers
13:58 Minutes

9:02 in OKC is a non-profit arts film that retells the story of the Oklahoma City Bombing through dance, spoken word, and storytelling. The mission is to bring awareness and honor to those involved in the Murrah Building Bombing in 1995.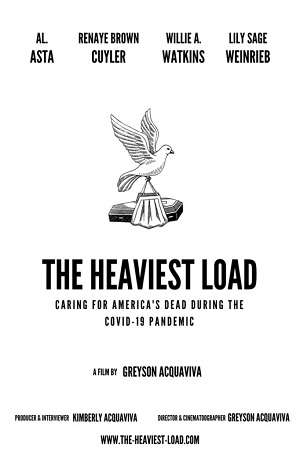 THE HEAVIEST LOAD: CARING FOR AMERICA'S DEAD DURING THE COVID-19 PANDEMIC
GREYSON ACQUAVIVA-Director
KIMBERLY D. ACQUAVIVA-Producer
19:29 Minutes

Faced with mounting deaths and cumbersome social distancing restrictions, four funeral directors persisted in caring for both the living and the dead in communities hit hard by the COVID-19 pandemic. These are their stories.

CLICK IMAGE TO VIEW TRAILER
THE SOUND OF BRIGHTON
EMMA BOUTERSE-Director
MOON HWAN LEE-Director/Producer
10:25 Minutes



The pandemic had an unprecedented impact on the music industry, transforming Brighton from a place with gigs on every night into a city where music quietened down. The start of the pandemic saw a surge in community-led efforts to save the industry through initiatives like #SaveOurVenues.

People within and outside the industry called for support, but where are these voices now, a year and a half later? The challenges of the music industry have been made invisible. This short documentary challenges this through telling the powerful stories of Brighton's musicians.