We're no longer posting THE Bare Bones Film Festival DISCOUNTED RATE; so as to avoid confusion if you do not book your room early enough, or if rates fluctuate.

Each of our Bare Bones Partner Hotels sets their special Bare Bones Discount rates and cutoff dates, so decide early, check the amenities that appeal to you, AND GET THE BEST POSSIBLE RATES by calling the Hotel direct. Be sure to tell them you're with the BARE BONES Film Festival.

If you are looking for someone to share a double-queen bed hotel room, register with our Hospitality Coordinator who will strive to find you a match. Have ready pertinent information: Such as...

Arrival/Departure Time/days
Male/Female preferred?
Smoker/Non-Smoker?
And any other particulars.
HOST HOTEL: BARE BONES INTERNATIONAL INDEPENDENT FILM & MUSIC FESTIVAL 2023




BEST WESTERN INN & SUITES

Address: 2701 Military Blvd, Muskogee, OK 74401

Phone: (918) 910-5060

.
.

STEP UP TO LUXURY!



2819 Military Blvd, Muskogee, OK 74401

Phone: (918) 910-5444



 



Contact Home2Suites-Muskogee Front Desk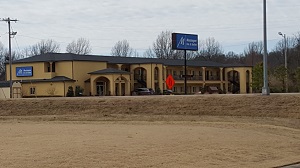 THE MUSKOGEE INN & SUITES

SHAWNA POINTS-BARE BONES HOSPITALITY COORDINATOR
1651 N. 32ND ST. (HIGHWAY 69) Across from IHOP
918-913-9433
Let them know you are with the Bare Bones Film Festival for group rate.

WEEKLY RATES AVAILABLE
 
 
 

1113 N Country Club Rd

Muskogee, OK 74403

Phone:918-683-3900

WHITLOCK W.I.S.H. HOUSE BED AND BREAKFAST

See the exotic collection of art and exotic animal heads from big game hunter and world traveler Jerry Whitlock.

BENEFITS WOMEN IN SAFE HOME (W.I.S.H. ORG)