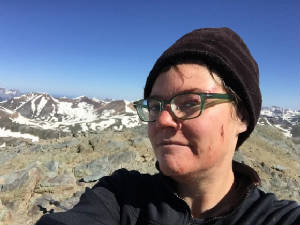 DIRECTOR STATEMENT
I am a storyteller first and foremost, and I am happy to use any means at my disposal to tell the stories I feel I need to share with the world.
KORNBLUM BIERSTADT KATZ
WRITER, DIRECTOR, PRODUCER, LEAD ACTOR
Kornblum Bierstadt Katz is a skier and climber of 14,000-foot mountains in their home state of Colorado. Their first novel, Damnation!, was published in October 2018, and they have won multiple awards for their screenplay My Brother, the Taxidermist. The Human Conservation Experiment is their first produced feature-length film.
FRI.OCT. 16
1:00 PM
ROXY THEATER
THE HUMAN CONSERVATION EXPERIMENT
After humanity's self-destruction, a trans man repulsed by pregnancy and children becomes the best hope for the continuation of the species.