3 RIVERS MUSEUM CINEMA
220 ELGIN MUSKOGEE, OK 74401
Muskogee's Regional History Center

Frontier Lawmen and Outlaw History: Bass Reeves, U.S. Deputy Marshal, Belle Starr Outlaw Queen are just two of this region's most famous.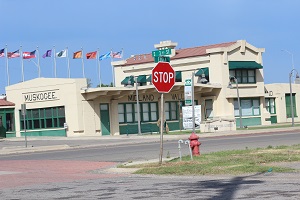 Historic ROXY THEATRE

Built in 1948, restored in 1990s.



220 W. OKMULGEE ST. MUSKOGEE, OK 74401
BONEHEAD AWARDS GALA-SAT. APRIL 28

6:00 PM RECEPTION-MIXER-LIVE MUSIC
7:00 PM STARS-CARS-GUITARS RED CARPET PHOTOS-INTERVIEWS LIVE STREAMING EVENT
8:00 PM- BONEHEAD AWARDS CEREMONY
OK MUSIC HALL OF FAME
401 S. 3RD ST (AT ELGIN) MUSKOGEE, OK 74401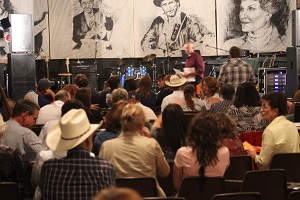 BACONE COLLEGE'S WACHOCHE HALL

Bacone is Oklahoma's oldest continuing center of higher education


2299 OLD BACONE RD-MUSKOGEE, OK 74403
THURSDAY, APRIL 20 8:30 AM-1:00 PM

DIGITAL STORYTELLERS SYMPOSIUM

COFFEE MIXER 8:30 AM

PANEL -9:00 AM

SPECIAL GUEST SPEAKERS:-TBA 10:00 AM

TOUR OF HISTORIC ATALOA LODGE ON CAMPUS


LUNCH AT NOON PROVIDED BY BACONE COLLEGE TO SYMPOSIUM PARTICIPANTS RSVP WITH FESTIVAL
BARE BONES STORYTELLING CONFERENCE PANEL 8:30 AM PANELS START AT 9:00AM THURS. APRIL 20
MUSKOGEE LIBRARY-GRANT FOREMAN RM
801 W. OKMULGEE-MUSKOGEE, OK 74401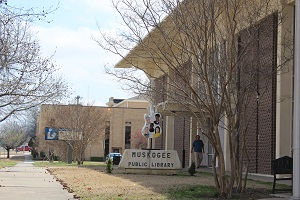 THE CASTLE OF MUSKOGEE
WEST FERN MOUNTAIN RD-( OFF HWY 69) MUSKOGEE, OK 74401
JOIN US AS WE STEP BACK IN TIME AT THE CASTLE OF MUSKOGEE
TOUR THE CASTLE OF MUSKOGEE!!

THURS. APRIL 20 @ 2 PM

Trolley to depart from Roxy Theatre at 1:30 PM
Step back in time to the fantasy realms of King Henry VIII. Explore the home of Oklahoma's Rennaisance Faire.
MUSKOGEE CIVIC CENTER'S MARKET SQUARE
4TH & OKMULGEE

Home of Muskogee's FARMER'S MARKET-Fresh fruits, vegetables, food and craft vendors.

.






OFFICIAL EMAIL ADDRESS: barebonesfilmfestivals@gmail.com
20th ANNUAL BARE BONES INTERNATIONAL FILM & MUSIC FESTIVAL-MUSKOGEE, OK USA
" A Place where even squares can have a ball." lyrics from Okie From Muskogee by Merle Haggard, 1968
MAILING ADDRESS UPS OR FEDEX DELIVERIES:
525 W. Okmulgee Ave. #3779 Muskogee, OK 74401
CST 918-616-1264 MESSAGE/text LINE