IN REMEMERANCE OF LAWMAN BASS REEVES & OUTLAW BELLE STARR
"Maybe the law ain't perfect, but it's the only one we got, and without it, we got nuthin'"
BASS REEVES

"I regard myself as a woman who has seen much of life."
BELLE STARR

ENTRIES NOW OPEN FOR 2023!
Bass & Belle Wild West Film Fest proudly accepts entries on FilmFreeway, the world's #1 way to enter film festivals and creative contests.
IT'S A WRAP!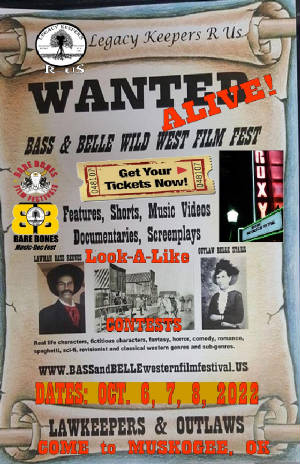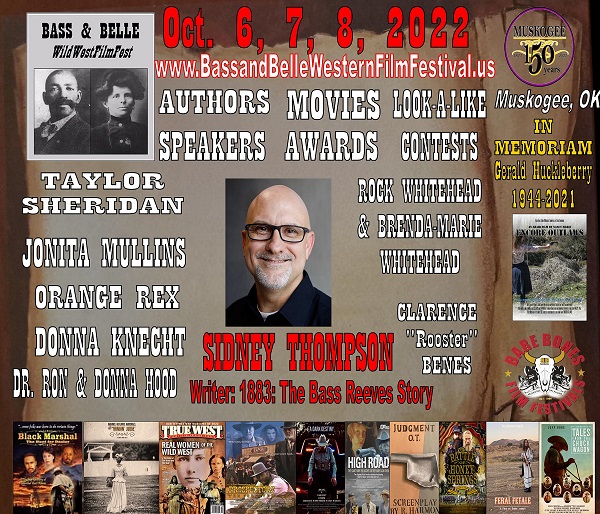 BASS & BELLE WILD WEST FILM FEST-AWARDS
BRINGING THE WESTERN FILM GENRE TO LIFE, ONE STORY AT A TIME.
| | | |
| --- | --- | --- |
| | | MUSKOGEE'S REGIONAL HERITAGE CENTER |
|   |   |   |
RED CARPET RECEPTION WITH "SONNY" -A MAGNIFICANT HORSE-KID TO POSE FOR PHOTOS.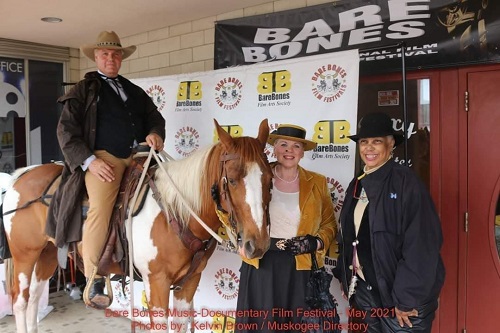 2021 RED CARPET AWARDS
BASS REEVES LEGACY PRESERVATION AWARDS

ODE TO U.S. DEPUTY MARSHAL BASS REEVES
Written & Performed by Dr. Harold Aldridge, Jr.

3 Minutes
ORIGINAL MUSIC-SONG
recorded live in Rentiesville, OK Oklahoma Blues Hall of Fame

Created as a compliment to Bass Reeves researcher and author Art T. Burton for the Annual U.S. Deputy Marshal Bass Reeves Legacy Conference held in Muskogee each July by the 3 Rivers Museum.

Owners of the Bare Bones FilmWorks Independent Production Company headquartered in Muskogee, OK.

Founders of the Bare Bones International Film & Music Festival, since 1999.

Founders of the Bass & Belle Wild West Film Festival
Producers of numerous historical documentaries about the Old west. Founders of LegacyKeepersRus non-profit organization dedicated to preserving History: People-Places & Events.

BELLE STARR LEGACY PRESERVATION AWARDS

YOUNGER'S BEND-PORUM, OK



BELLE STARR'S LAST RIDE

Ballad of Belle Starr Vocals by LeighAnn Matthews

Meet Ron & Donna Hood, owners of Younger's Bend, gravesite & Replica cabin of Belle Starr in Porum, OK.

MAIN FEST TO BE HELD IN THE LAST TOUR OF DUTY AND FINAL RESTING PLACE OF LEGENDARY LAWMAN BASS REEVES!

MUSKOGEE, OK USA. EPI-CENTER OF THE OLD WEST
A Festival to celebrate and honor the Wild West experience of lawbreakers and peacemakers along with the many characters in between. Re-enactors, Actors, pay homage to a time long gone.

Lawman Bass Reeves & Outlaw Queen Belle Starr

Grab your ponies, badges, guns and wagons!