ShIronbutterfly-Evelyn Hibbs-Lori Jefferson
Award Presentation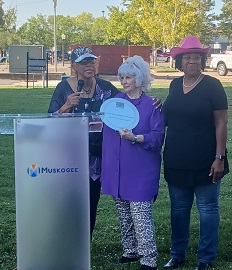 DOMESTIC VIOLENCE AWARENESS & PREVENTION

SPECIAL AWARDS PRESENTATION OF STREET HONORS
EVELYN HIBBS BOULEVARD
BETWEEN 3RD & 4TH STREET ON BROADWAY

PRESENTATION OF A NAMED AWARD TO EVELYN HIBBS
Founder of the WISH Organization
FROM THE BARE BONES FILM ARTS SOCIETY
The Evelyn Hibbs Award will be bestowed upon the Top winner in the Domestic Violence Awareness/Prevention categories for Movies/Music.


WEAR PURPLE!
WALK-A-MILE IN HER SHOES

MAKE A DONATION TO THE W.I.S.H.ORGANIZATION
Women (men & children) In Safe Home
THANKS TO OUR FESTIVAL HOST
THE HISTORIC ROXY THEATER
FILMMAKER REGISTRATION/CHECK-IN AND ROXY THEATER BOX OFFICE
OSCAR DEAN RAY
RE-ENATOR-ACTOR-WRITER-PRODUCER-DIRECTOR-ETC...FILMMAKER!
NAMED AWARD HONOREE-MARKETING & SHAMELESS D.I.Y. PROMOTIONS
For the Bare Bones International Film & Music Festival
3:00 pm-4:00 pm
D.I.Y. (DO IT YOURSELF) SHAMELESS SELF-PROMOTION
Roundtable discussion LED BY OSCAR DEAN RAY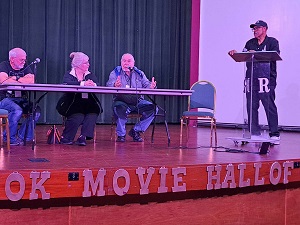 L-R: Russ Fry, Judy Belshe-Toernblom, Fred Staff, Oscar Ray
4:00 pm-5:00 pm

HISTORICAL DOCUMENTARIES ON THE FINAL RESTING PLACES FOR THE OUTLAW BELLE STARR & THE LAWMAN BASS REEVES
A virtual tour of RESTORATION & PRESERVATION
Q & A to follow
5:00 PM-6:45 PM

RED CARPET WELCOME & VOLUNTEER APPRECIATION RECEPTION-MEET & GREET FILMMAKERS, CAST & CREW
CLICK IMAGE TO VIEW LARGER
PRESENTATION OF THE LARRY HOFFMAN OUTSTANDING VOLUNTEER AWARD TO: CAROLYN & GREG HARMON

COMMUNITY SHERO AWARD
HADEE-HAZEL STRUPP-WOOD aka "The Duck Lady"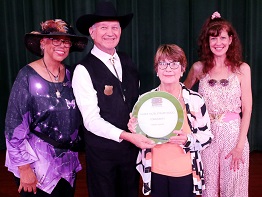 COMMUNITY HERO AWARD
DR. JAROD MENDENHALL
Superintendent of Muskogee Public Schools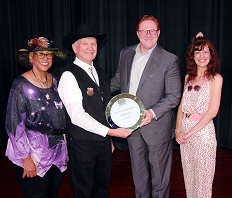 BASS REEVES LEGACY TROUPE RE-ENACTOR AWARD
CARY PRUITT
For portrayal of TERRITORIAL JUDGE JOHN ROBERT THOMAS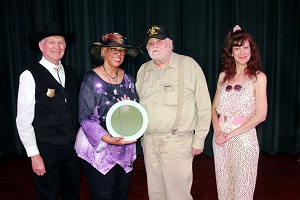 LIFETIME ACHIEVEMENT AWARD FOR WESTERN HISTORY PRESERVATION
FRED STAFF-AUTHOR Bass Reeves Trilogy plus 50 other titles.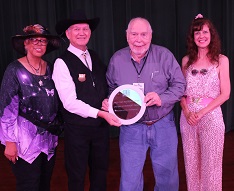 7:00 PM SPECIAL SHOWCASE FROM THE BARE BONES INTERNATIONAL FILM & MUSIC FESTIVAL
BLACK MARSHAL: THE HUNT FOR DOZIER

Adventures of U.S. Deputy Marshal BASS REEVES during the years 1867-1883 featuring the capture of the notorious outlaw BOB DOZIER.

Shot on video, on location in several Oklahoma locations with a Bare Bones Budget of $7,000.

.

MARLON LADD-Writer/Director/Producer (AKA LEE NEWTON 2002)

Recipient of the LEGACYKEEPERSRUS BASS REEVES LEGACY TRAILBLAZER AWARD during the 12th Bass Reeves Western History Conference held in July 2022.