INDIGENOUS NATIVE AMERICAN FOCUS AWARD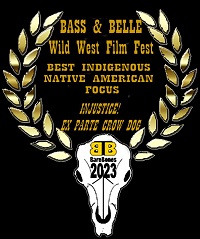 INJUSTICE! EXPARTE CROW DOG
Written by Christopher Manydeeds
Injustice! United States vs Tribes is a TV anthology series about Federal Indian Law in dynamic US Supreme Court decisions.

The series will address how the United States and Tribes decided the course of history through a hostile court system. Ex Parte Crow Dog is about a why the Federal government came to have criminal jurisdiction over Tribes for murder.
INDIGENOUS NATIVE AMERICAN FOCUS 2ND PLACE RUNNER UP
BLACK HAWK ROCK
Directed by Russ Fry
Ma-Ka-Tai-Me-She-Kia-Kiak, the Sauk war leader known to the American settlers as Chief Black Hawk, wrote in his autobiography about visits to Shokokon, the area that is now called Burlington, Iowa.

He held counsel in a secluded but romantic spot in the midst of the bluffs, not far from the river.
BEST SHORT WESTERN STORY/SCRIPTS
Written by Fred Staff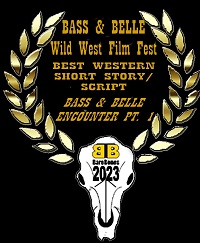 BEST SCREENPLAY/TV PILOT/STAGEPLAY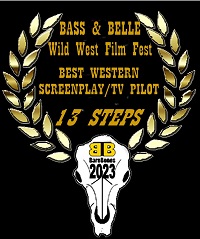 13 STEPS
Written by Loren Davis
In the violent world of the Old West a hardened outlaw and ruthless killer tries to protect his young daughter and give her a proper upbringing ultimately forcing a choice between his own survival and her safety.
BEST SCREENPLAY/TV PILOT/STAGEPLAY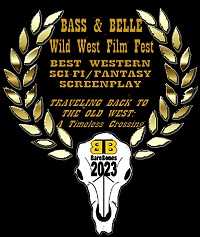 TRAVELING BACK TO THE OLD WEST:
A Timeless Crossing
Written by Bruce Thomas
This is a story about two men that travel Old West re-enactment settings to get a flavor for what it was like in the 1850's. Little do they know that they enter a time warp while under the belief that all re-enactment experiences are staged a mere portrayal of what life was like back then.

Throughout their travels to various re-enactment sets, they encounter historic heros and villains, saloons, shootouts, and the dry, dusty, and crude way of life.

Unbeknownst to our lead characters, none of this is realized until they return home a rather stunning ending.
BEST SCREENPLAY/TV PILOT/STAGEPLAY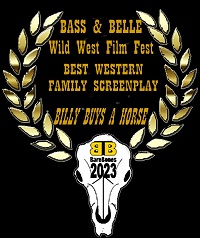 BILLY BUYS A HORSE
Written by Sid Kramer
Pilot for Closing the Gap- Series

At the 4th of July Celebration in 1931, a boy becoming a man needs a horse of his own. His father has said no, but he disobeys and sets out to buy one. At the same time, his father has other business and gets involved in a personal fight that consumes the entire fairgrounds at the Battle of Vendors Row.


JURIED AWARDS FOR BEST POSTER,
BEST TRAILER,
BEST MARKETING & BEST SET DESIGN
AUDIENCE CHOICE:
BEST WESTERN COSTUMED CHARACTERS &/OR RE-ENACTORS
L-R: BRANDON LEE KEROPIAN-Outlaw Josie Wayles,
CRAIG RAINEY-The Oldest Posse,
JAKE JACMENEK-The Oldest Posse