LEGACYKEEPERSRUS-FILMED LEGACY AWARD

Mission of Legacykeepersrus.org

To restore and preserve lost legacies. To document historical people, places and events for a lasting legacy via audio & video documentation.
CLICK IMAGE TO VISIT LEGACYKEEPERSRUS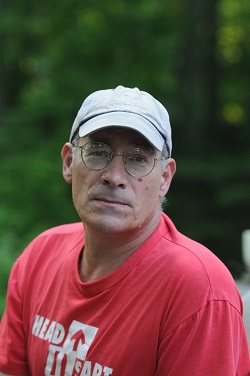 Daniel Wolff was the associate producer on Jonathan Demme's documentary film, The Agronomist, and a producer on Mr. Demme's five-part series on New Orleans featured on Tavis Smiley's national television show in 2007, as well as Mr. Smiley's hour-length PBS special, Been in the Storm Too Long (2010).

I'm Carolyn Parker, a previous Demme/Wolff collaboration, aired on PBS in 2012. He has appeared in Philadelphia, Rachel Getting Married, and Subway Stories. This is the first film he's directed.
DIRECTOR'S STATEMENT:

Guardians of the Flame is the product of some 17 years, begun on a visit to post-Katrina New Orleans in 2006 by Oscar-winning director Jonathan Demme and writer Daniel Wolff. Their visits continued, 4-times-a-year, for the next six years.

After Demme's death, in 2017, Wolff, Demme's son Brooklyn, and a film crew returned to New Orleans in 2019 to bring the project up to date. The desire to finish this project and the persistence to do so comes from the Harrison family's inspirational work in what Cherice Harrison-Nelson calls "self-emancipation."

Long before Katrina and in the years since, the Harrisons have forged cultural weapons to resist racism and oppression both locally and on a national scale. As this film documents, their tools include music, beading, masking, literacy, and community building.

Whether handing out books to pre-schoolers, being nominated for Grammies, making films, or sewing elaborate ceremonial clothing, the Harrisons have kept their eyes on the prize. Guardians of the Flame offers a decade-and-a-half overview of one family's trials and eventual triumph.
CLICK IMAGE TO VIEW TRAILER
Undeterred by decades of prejudice, post-Katrina neglect, and ongoing appropriation of their traditions, three generations of the extraordinary, multi-talented Harrison family guard their legacy and define what Black masking culture means in New Orleans today.

Initiated and filmed by the celebrated Oscar winning filmmaker Jonathan Demme, the film was shot over the course of 15 years documenting the artistry and activism of three generations of the Harrison family of New Orleans. In the course of this African American family's fight to recover not just from Hurricane Katrina but from a history of cultural suppression, we meet the matriarch Herreast Harrison, whose dream is to found a museum dedicated to her husband's legacy.

Along the way we are also introduced to her four talented children: a renowned saxophonist, a master beader in the closely-guarded Mardi Gras tradition, a performance artist and educator, and a singer and manager of Herreast's grandson's musical career.

In the decades-long struggle towards survival and healing, we're given an intimate view of the family's determination to educate and preserve culture - from a social and pleasure club parade to a brass band commemoration, culminating in the spectacular Mardi Gras unveiling of the Guardians of the Flame.